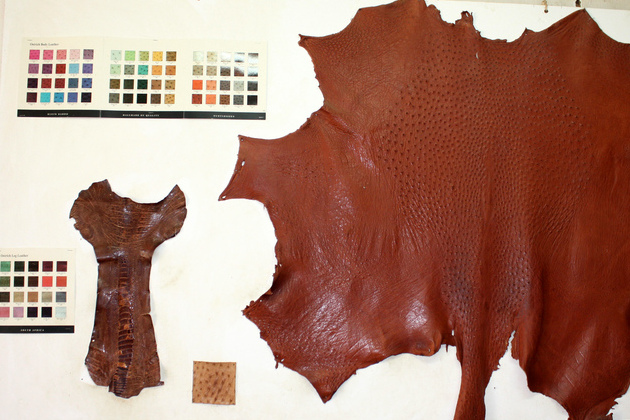 Ostriches, the largest flightless birds in the world, are bred on farms in South Africa and North America. Ostrich leather in turn is an exotic variety of leather that has significantly grown in popularity, thanks to its distinctive nubs. Although it is extremely tough and durable, ostrich leather remains impressively soft.
Leather taken from the largest bird in the world
Ostrich leather is a type of exotic leather that has grown increasingly popular. Its distinctive nubs lend it a striking, unique look. Interestingly, its newfound popularity is not, strictly speaking, a new phenomenon; the Ancient Romans were also thrilled by this leather's singular pattern and soft, supple feel.
Most ostrich leather is sourced from special farms in South Africa and North America. The entire cut of skin taken from a single ostrich measures 1.3 to 1.5 square metres; however, only the portion taken from the back is used to produce leather. This is the only part of the hide featuring the distinctive nubbly texture for which ostrich leather is known.
When used to make shoe uppers, ostrich leather is chrome-tanned and processed without being split—splitting the leather would result in a loss of the nubs. Ostrich leather is extremely tough, durable, and breathable. When used to make shoes it is usually fully-dyed brown or black, since it is naturally very light in colour.
Additional steps in leather production