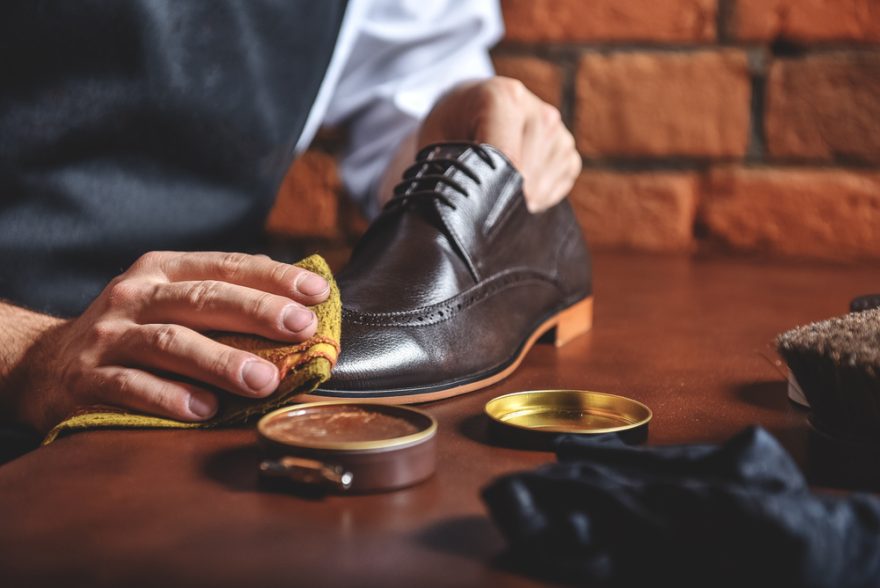 Knowing how to correctly and precisely clean your shoes transforms a tedious-seeming task into a gratifying process. The leather on your shoes will thank you—proper shoe care keeps it shiny and extends its lifespan.
Shoe care replenishes oils and fats to the leather, and minimises further oil and fat loss. All it takes to ensure that the leather on your shoes retains its elasticity, suppleness, and shine is repeating the proper shoe care process every two to three weeks.
Well-nourished leather looks good and lasts long
Shoe owners need to bear in mind that leather is a natural material that requires a given level of nourishment to remain in peak condition. During the tanning process, all of the water- and fat-containing elements are removed from the leather. During the subsequent finishing stage, oils and fats are restored to the leather. Nevertheless, daily wear and exposure to the elements continually deplete shoe leather of oil and fat. As a result, the leather loses its flexibility and stiffens, while dirt particles settle in the pores. Finally, in the absence of care, leather becomes brittle—as a consequence, the shoe does not stand a chance of lasting long.
Proper shoe care protects and nourishes shoe leather. This preserves the leather's special qualities and imbues the leather with a wonderful shine. In order to do this process justice, men's shoe owners need both a thoroughly outfitted shoe care set as well as an understanding of how to go about cleaning their shoes correctly.
Shoes should be cleaned every two to three weeks
The main aims of shoe care are preventing shoe leather from drying out, as well as preserving shine and suppleness by nourishing and caring for the leather. It suffices to clean your men's shoes once every two to three weeks. If, however, your shoes have been subjected to inclement weather conditions (dampness and coldness), and have therefore been placed under considerable strain, they should be cleaned more often.
You should wipe off or brush your men's shoes after each wear to prevent dirt particles from accruing and to preserve an elegant appearance. If you are planning on an extended break from wear, you should apply a thin layer of shoe cream to the shoes in question and store them in a cloth bag.
Another tip: to ascertain whether your shoes are adequately protected against dampness, apply a small amount of water to the shaft. If the water droplets bead up, then the shoe has been properly waterproofed. If, however, the water runs into little rivulets or forms small pools, then your shoes require waterproofing.
Components of a shoe care set
Whether you spring for a sophisticated shoe care kit or whether you store your shoe care products individually is ultimately a question of your budget and taste. That being said, there are a couple essential products that everyone should own. You should have at least one stiff brush made of boar bristles, oxtail hair, or horsetail hair. Brushes made from agave fibres are also extremely popular—these are durable and flexible leaf fibres taken from a South American strain of agave.
Furthermore, you should have a separate applicator brush for every shade of cream. If you use the same brush to apply different shades, you can end up distorting the colour of your shoe leather.
In terms of cleaning and care products, taking ones intended for black to medium-brown calfskin shoes as an example, you should own: a black or brown wax cream, a colourless mixed emulsion cream, a leather sole oil, an applicator brush, and a colourless rough leather waterproofing solution.
Finally, you need polishing brushes made of horsetail hair, or soft cotton polishing cloths.
Correctly cleaning shoes
To clean smooth leather shoes, begin by using a stiff brush to remove dust, dried mud, and other impurities from the leather. It is crucial that you do this thoroughly, since if any dirt particles are left behind they can greatly hinder the remainder of the cleaning process, and ultimately result in scratched shoe leather. Follow this step by waterproofing and treating the shoe. Use an applicator brush or a cotton cloth to apply shoe cream or wax in a shade that matches the shoe leather to the entire shoe surface, including the heel and the edge of the sole. Allow the wax to harden for about half an hour before beginning to polish it with a polishing brush or soft cloth. Using gentle motions, and without applying pressure, lightly polish the leather until you achieve an even shine.
After every eight cleaning process, you can apply a mixed emulsion instead of shoe wax to further nourish the leather and revive its colour. Use a rag to thinly apply the emulsion, allow it to absorb for a few minutes, and then polish the shoe with a polishing brush.
Every few months you should direct your attention to the leather sole. Use a brush to evenly apply a special leather sole oil to the sole. Repeat this procedure until the oil is no longer immediately absorbed into the sole.
Suede shoe owners need to use a special suede brush to remove dirt at the beginning of the cleaning process. After cleaning and drying the shoe, treat it with a colourless liquid waterproofing agent. Then, apply a cream in the appropriate shade to the sole waist, the edge of the sole, and the visible portion of the welt. Polish this in. Wait for half an hour, then use the rubber nubs on the suede brush to brush the nap of the suede back into place.
Additional Elements of Shoe Care
Quality Shoe-Care Products at Shoepassion.com
Various usages ★ High quality ★ Fair & sustainably produced in Europe ★ Exellent value for money