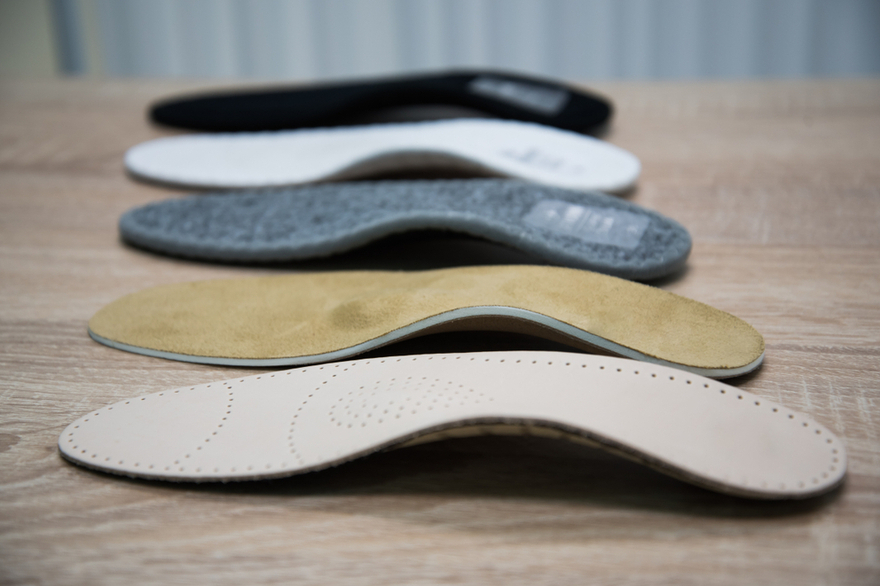 If you have healthy feet and wear shoes with a perfect fit, you do not need insoles. If the need arises, though, insoles can help to restore your feet to a healthy state.
If you wear quality-shoes with a perfect fit, you normally would not need insoles. However, if you are diagnosed with a foot condition, then you should definitely reach for a pair. In addition to treating foot conditions, medical insoles ensure a high degree of wearing comfort.
Insoles help restore feet to a healthy state
Common foot conditions include flat feet, splayfeet, club feet, and fallen arches. After the condition has been diagnosed, an orthopedic shoemaker or orthopedic technician takes plaster casts of the feet and uses them to create insoles. In doing so, he chooses between making corrective insoles, support insoles, or soft bed insoles. Ultimately, insoles serve to restore feet to a healthy state. Insoles can provide general relief, evenly distribute pressure along the foot, and ensure stable positioning for the back of the foot. Materials commonly used to make insoles include stainless steel, synthetic thermoplastics, foam, cork, and carbon.
Diabetics carry a particularly high risk of developing foot conditions, since they often suffer from nerve damage and disturbed blood flow. As a result, diabetics tend not to notice small injuries right away, and also suffer from a significantly delayed healing process. Accordingly, diabetics carry an increased risk of contracting athlete's foot and toenail fungus. Special diabetic insoles help protect feet from all of the above by reducing and optimizing the distribution of pressure. This in turn helps keeps feet from becoming strained and prevents abscesses from forming.
Adding insoles to cheap and poorly fitting shoes is a poor investment
If you wear low-quality shoes—usually known for a poor fit, you are certainly not doing your foot health any favours. Tight, poorly-fitting shoes damage feet over the long term and eventually make insoles necessary. Many people attempt to counteract poorly-fitting shoes with cheap insoles from the supermarket. These kinds of insoles are inadequate, and do not provide any real help. It would be better to simply purchase quality men's shoes instead of their cheap and ill-fitting counterparts. Your reward: healthy feet, increased wearing comfort, and a sophisticated, timeless look.
Buy Insoles at Shoepassion.com
For men & women ★ Various styles & designs ★ High quality ★ Fair & sustainably produced in Europe ★ Exellent value for money