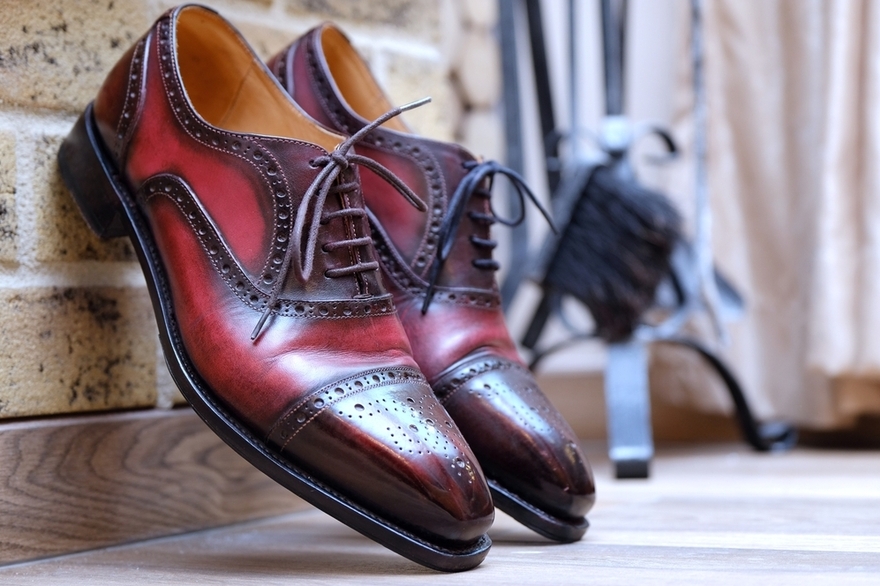 Elegant shoes such as the oxford or derby are made using the Goodyear welting production method. Such shoes boast a refined appearance and high durability. Goodyear-welted shoes are also quite easy to repair. They're made using only the finest materials.
Goodyear welting rules the realm of shoe production. Shoes made in this manner are comfortable, long-lasting, and remarkably easy to repair—they're best in terms of quality, and an exciting purchase for the shoe aficionado.
Goodyear-welted shoes feature welting on the outer edge
»Goodyear welting« is the common term for the shoe production method that entails welting on the outer edge of the shoe. This mechanical shoe manufacturing method was invented by Andreas Eppler and patented by Charles Goodyear Jr. in 1872. Goodyear's method involved using a Goodyear stitching machine and a Goodyear outsole-stitching machine to suture both of the bottom seams of the shoe.
When it comes to elegant men's shoes such as the oxford, derby and blucher, Goodyear welting is the vastly preferred shoe production method. This method involves an invisible Goodyear stitch that attaches the shaft to the insole. The welt that gives this method its name is a roughly 3 millimetre-wide strip of leather that's sutured to the point where the shaft and insole are connected. Another seam (a lock-stitched seam) is sewn onto this point from the outside of the shoe to create a connection with the outsole.
Goodyear-welted shoes are a worthwhile long-term investment
The welting process is intricate, requiring trained professional supervision and the finest materials. Understandably, the end product is costly. However, the comparatively high shoe price is justified by the high production value alone. Goodyear-welted shoes are much longer-lasting than their differently produced counterparts, as well as easier to repair. They're also elegant in appearance and guarantee a comfortable shoe fit. Goodyear-welted shoes never feel 'worn out'.
Is a shoe really so expensive when it lasts for years, thereby sparing the wearer the expense of continually purchasing new pairs? In the long run, a Goodyear-welted shoe is quite a good investment.
The first Goodyear-welted shoes appeared in the 16th century
Goodyear-welted shoes enjoy a long history. Archaeological expeditions have discovered that the »cow-mouth shoe«, which over the course of the 16th century replaced the pointed shoes that had been popular across Europe, featured Goodyear welting. Over the following centuries, this welting method undertook several modifications. Until the latter half of the 19th century, welting was exclusively done manually. Then, in 1872, Charles Goodyear Jr. introduced his first Goodyear machines to England, thereby revolutionizing this shoe production method. Factory production allowed shoes to be made in much greater numbers, which consequently led to a decrease in shoe cost.
An overview of various shoe production methods
Types of broguing
Goodyear-welted Leather Shoes at Shoepassion.com
Handmade Shoes for men & women ★ Various styles & designs ★ High quality ★ Fair & sustainably produced in Europe ★ Exellent value for money ★ Many models on sale