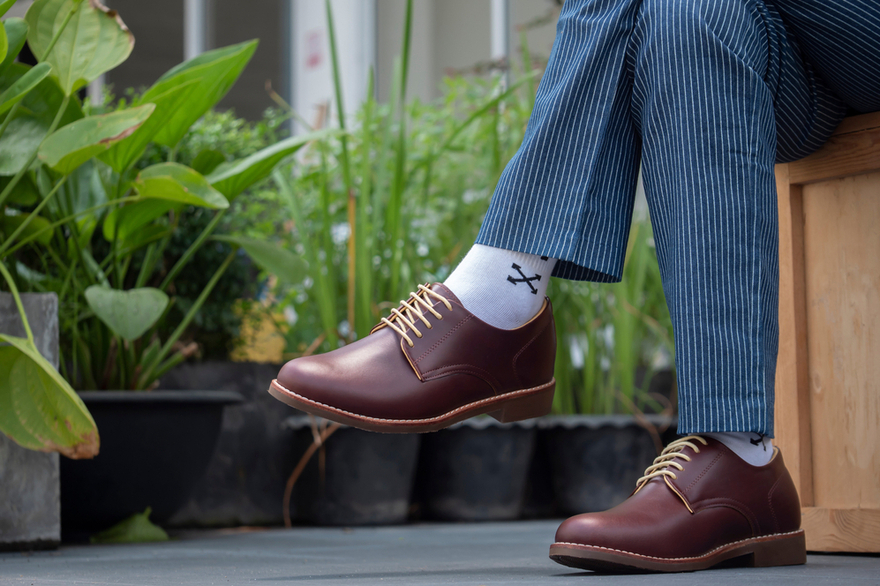 The great financial expert André Kostolányi was a devotee of derby shoes. He wasn't alone. Legions of derby fans make this comfortable and elegant model one of Europe's most beloved shoes.
The derby is one of the most popular types of men's shoes Europe-wide. Unlike the oxford, this classic model is constructed so that both of the side pieces (quarters) with lacing lie on top of the smooth vamp, which becomes the tongue. This is known as open lacing. In light of this, derby shoes aren't so much a type of shoe as they are a special cut of shoe. This cut serves as the framework for other types of shoes, such as the budapester. Derby shoes are often mistaken for blucher shoes. Don't allow their similarities to confuse you—the two possess completely different shaft designs.

These shoes originated in Derbyshire
The description 'derby cut' has become a common way of referring to shoes with open lacing. Be that as it may, the lacing on derby shoes, which features three to five pairs of eyelets, means that they are easier for the shoe wearer to put on than oxford shoes are.
The origin of the name 'derby' remains unclear. However, it probably refers back to an English Earl of Derby who lived at the end of the 19th century and who, as legend has it, had difficulties donning boots due to his corpulent physique. A shoemaker came to his aid and prepared for him shoes that were easy to don. And thus the derby cut was born, from whence it proceeded to conquer Europe.
Derby shoes are considered versatile
For a long time, the derby was considered a purely casual shoe. Today, whenever various kinds of decoration are added to the derby (giving it a light and sporty look), this is still the case. In its smooth and undecorated iterations, though, this is a sophisticated, elegant piece that's absolutely suitable for suits. Any of the brown shades, combined with a well-matched suit, are appropriate for business meetings. These also pair nicely with corduroys and light clothing. Derby shoes even combine perfectly with jeans.
No matter the colour, or whether they're semi-brogues or full-brogues, derby shoes can be worn from sunrise until sunset; they're a versatile type of shoe that belongs in every man's shoe collection.
A tip: derby shoes are excellent for broad, highly arched feet.
Additional types of shoes
Find out more about interesting shoe terms in our shoe glossary.
Handmade Leather Shoes at Shoepassion.com
Classic Shoes for men & women ★ Various styles & designs ★ High quality ★ Fair & sustainably produced in Europe ★ Exellent value for money ★ Many models on sale