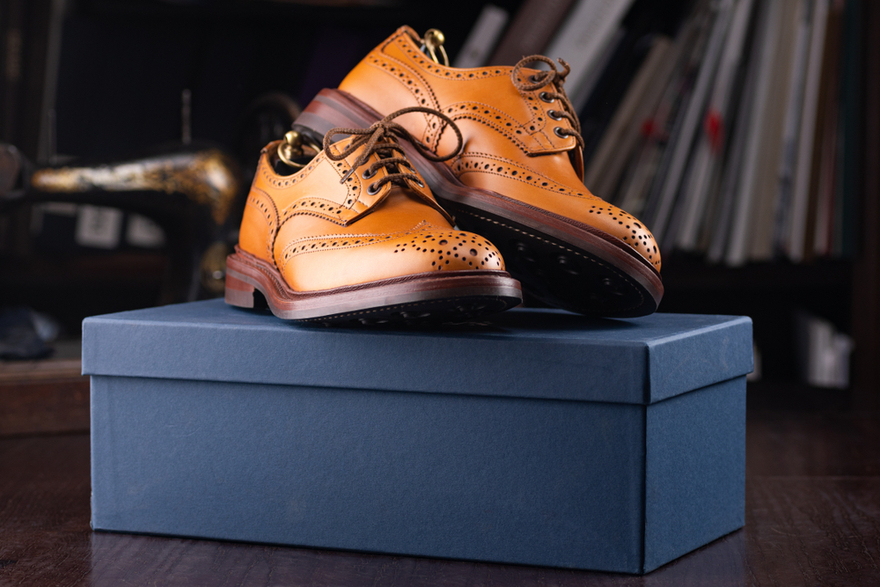 The Duke of Windsor made them famous; the full brogue, richly adorned with Lyra perforation, has a sporty feel, and is usually made of scotch grain leather.
Unlike Half-Brogues, full brogues don't have a straight toe cap; instead, they have a wingtip cap, which extends laterally to the sides of the shaft. Full brogues also typically feature a heel cap. In addition to »Rosette« perforation in the centre of the toe, full brogues are also decorated with Lyra perforation along the edges of each part of the shaft.
Full brogue uppers are usually made of embossed scotch grain, which underscores the shoe's sporty feel—full brogues were popular golf shoes in England at the turn of the 20th century.
The Duke of Windsor, who remained a style icon through the 1970s, wore full brogues to play golf and donned a more elegant variety thereof for social events. In doing so he elevated this type of shoe to worldwide popularity. Full brogues look very chic when made a part of sporty outfits.

Types of broguing
An overview of various shoe production methods
Handmade Leather Shoes at Shoepassion.com
Classic Shoes for men & women ★ Various styles & designs ★ High quality ★ Fair & sustainably produced in Europe ★ Exellent value for money ★ Many models on sale