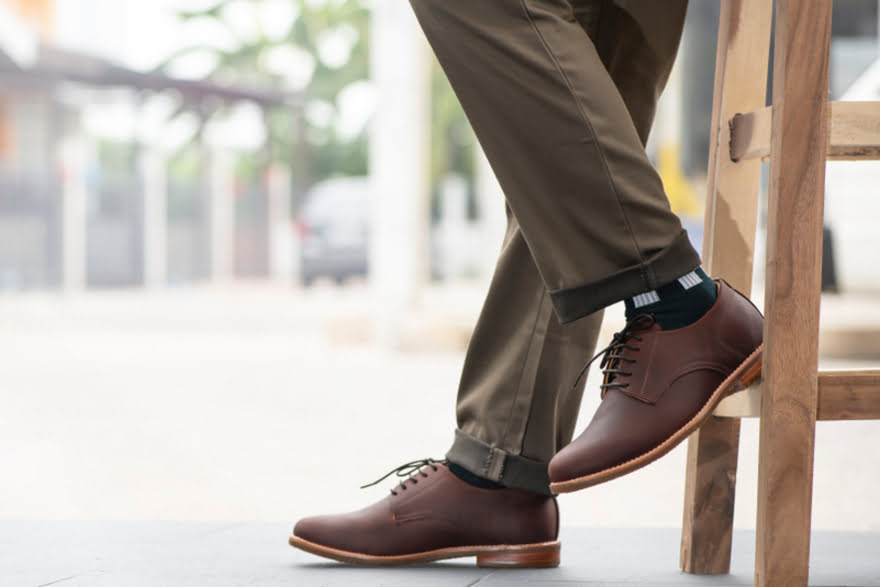 The more formal the occasion, the smoother and simpler the upper. A plain oxford is therefore the perfect choice for very special occasions.
Attendees like to dress up for events such as receptions and weddings. However, merely putting on a tuxedo isn't enough to be fully dressed for the occasion. A sophisticated men's shoe is needed to complete the look. The following rule of thumb applies: the more formal the event, the smoother and simpler the upper. The shoe colour should be the darkest shade possible, and the sole should be very thin. A simple shaft design, featuring a minimal amount of visible stitching, is also preferable. Therefore, the perfect choice for a special occasion is a plain oxford in highly polished, gleaming calfskin or kid leather.

Dark derby shoes aren't quite appropriate – cap toe oxfords are an affordable alternative
Unlike oxfords, black derby shoes have no place here. Their open lacing has too strong of an athletic connotation, which wouldn't suit the occasion at hand.
Oxfords made from the highest quality smooth leather (instead of patent leather) may be worn to these occasions as well as to other, less formal evening events.
A tip for those on a budget: highly polished cap toe oxfords are also suitable for special occasions. The only thing that visually distinguishes the cap toe from the plain oxford is the seam running along the tops of the former's toes; moreover, cap toe oxfords are significantly less expensive.
For further consideration…
Find out more about interesting shoe terms in our shoe glossary.
Handmade Leather Shoes at Shoepassion.com
Classic Shoes for men & women ★ Various styles & designs ★ High quality ★ Fair & sustainably produced in Europe ★ Exellent value for money ★ Many models on sale